SDM battery series
Torque range: 25 – 1.400 Nm
Miniature size, giant performance
RAD has originally designed the SDM (Small Diameter Multiplier) gearboxes for the aerospace industry where tool access is limited and quality and precision standards are high. Because of the compact design, the SDM gearboxes provides a solution for applications where tool access to the bolt is restricted and where high torque is needed.
The low weight and size reduce operator fatigue and eliminate the use of large and tiresome manual torque wrenches. Combined with a quality nutrunner, the SDM Series provide repetitive precision with excellent durability thanks to clever materials and smart bearing technology.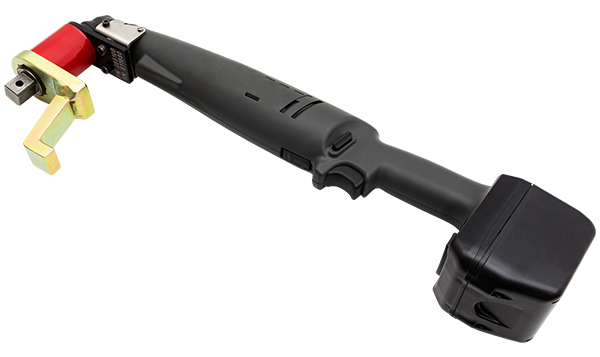 Two options
SDM Gearbox only: Can be combined with a standard industrial nutrunner of your own choice. See SDM Gearboxes for a complete list.
SDM Battery Series toolkit: Complete toolkit equipped with a battery nutrunner for torques of up to 1.400 Nm.
SDM Battery Series toolkit
BASIC model

Powered by a Red Rooster battery nutrunner
Torque output up to 680 Nm
Calibrated on 1 pre-specified torque setting using a spring, multiple torque settings are not possible
LED indicators for pass/fail
No display
PRO model
Powered by an Ingersoll Rand battery nutrunner
Torque output up to 1.400 Nm
Torque adjustable per 10 Nm
Operator feedback using green, yellow and red LEDs
INSIGHT Connect app for data logging and programming jobs
No display
ADVANCED model
Powered by an Ingersoll Rand battery nutrunner
Torque output up to 1.400 Nm
Torque adjustable per 1 Nm
Operator feedback using green, yellow and red LEDs
INSIGHT Connect app for data logging and programming jobs
Torque and angle validation on display
Advanced display

All SDM Battery tools include:
SDM gearbox
Battery powered angled nutrunner
Standard reaction arm
Two Lithium-ion 18V/5.6 Ah batteries with charger (For the BASIC model: Two Lithium-ion 18V/4.0 Ah batteries)
Weatherproof storage case
User manual
Calibration certificate
SDM BATTERY SERIES TOOLKITS:
| | |
| --- | --- |
| Product range | |
{"lang-en": "Prod.no.", "lang-nl": "Art.nr.", "lang-de": "Prod.nr", "lang-it": "N. Prod.", "lang-es": "Prod. n.º", "lang-fr": "N° de prod.", "lang-da": "Prod.nr.", "lang-tr": "Ürün no."}
{"lang-en": "Model", "lang-nl": "Model", "lang-de": "Modell", "lang-it": "Modello", "lang-es": "Modelo", "lang-fr": "Modèle", "lang-da": "Model", "lang-tr": "Model"}
{"lang-en": "Ratio", "lang-nl": "Ratio", "lang-de": "Verhältnis", "lang-it": "Rapporto", "lang-es": "Ratio", "lang-fr": "Rapport", "lang-da": "Forhold", "lang-tr": "Oran"}
{"lang-en": "Input drive", "lang-nl": "Ingangsaandrijving", "lang-de": "Eingangsantrieb", "lang-it": "Unità di input", "lang-es": "Accionamiento de entrada", "lang-fr": "Entraînement d'entrée", "lang-da": "Indgangseffekt", "lang-tr": "Giriş sürücüsü"}
{"lang-en": "Torque range", "lang-nl": "Momentbereik", "lang-de": "Drehmoment-
bereich", "lang-it": "Range di coppia", "lang-es": "Rango de par", "lang-fr": "Plage de couple", "lang-da": "Momentområde", "lang-tr": "Tork araligi"}
{"lang-en": "Weight", "lang-nl": "Gewicht", "lang-de": "Gewicht", "lang-it": "Peso", "lang-es": "Peso", "lang-fr": "Poids", "lang-da": "Agirlik", "lang-tr": "Agirlik"}
{"lang-en": "Dim. A", "lang-nl": "Afm. A", "lang-de": "Maße A", "lang-it": "Dim. A", "lang-es": "Dim. A", "lang-fr": "Dim. A", "lang-da": "Dim. A", "lang-tr": "Boyut A"}
{"lang-en": "Dim. B", "lang-nl": "Afm. B", "lang-de": "Maße B", "lang-it": "Dim. B", "lang-es": "Dim. B", "lang-fr": "Dim. B", "lang-da": "Dim. B", "lang-tr": "Boyut B"}
{"lang-en": "Dim. C", "lang-nl": "Afm. C", "lang-de": "Maße C", "lang-it": "Dim. C", "lang-es": "Dim. C", "lang-fr": "Dim. C", "lang-da": "Dim. C", "lang-tr": "Boyut C"}
{"lang-en": "Dim. D", "lang-nl": "Afm. D", "lang-de": "Maße D", "lang-it": "Dim. D", "lang-es": "Dim. D", "lang-fr": "Dim. D", "lang-da": "Dim. D", "lang-tr": "Boyut D"}
{"lang-en": "Dim. E", "lang-nl": "Afm. E", "lang-de": "Maße E", "lang-it": "Dim. E", "lang-es": "Dim. E", "lang-fr": "Dim. E", "lang-da": "Dim. E", "lang-tr": "Boyut E"}
3000143
SDM BATTERY 340B
1:23
½"
25 - 340 Nm
n/a
n/a
n/a
n/a
n/a
n/a
3000144
SDM BATTERY 680B
1:65
¾"
50 - 680 Nm
n/a
n/a
n/a
n/a
n/a
n/a
300315
SDM BATTERY 340P
1:23
½"
70 - 340 Nm
n/a
n/a
n/a
n/a
n/a
n/a
300316
SDM BATTERY 680P
1:65
¾"
130 - 680 Nm
n/a
n/a
n/a
n/a
n/a
n/a
300317
SDM BATTERY 1400P
1:128
¾"
250 - 1.400 Nm
n/a
n/a
n/a
n/a
n/a
n/a
300318
SDM BATTERY OFFSET 1400P
1:131
¾"
400 - 1.400 Nm
n/a
n/a
n/a
n/a
n/a
n/a
300319
SDM BATTERY 340A
1:23
½"
70 - 340 Nm
n/a
n/a
n/a
n/a
n/a
n/a
300320
SDM BATTERY 680A
1:65
¾"
130 - 680 Nm
n/a
n/a
n/a
n/a
n/a
n/a
300321
SDM BATTERY 1400A
1:128
¾"
250 - 1.400 Nm
n/a
n/a
n/a
n/a
n/a
n/a
300322
SDM BATTERY OFFSET 1400A
1:131
¾"
400 - 1.400 Nm
n/a
n/a
n/a
n/a
n/a
n/a